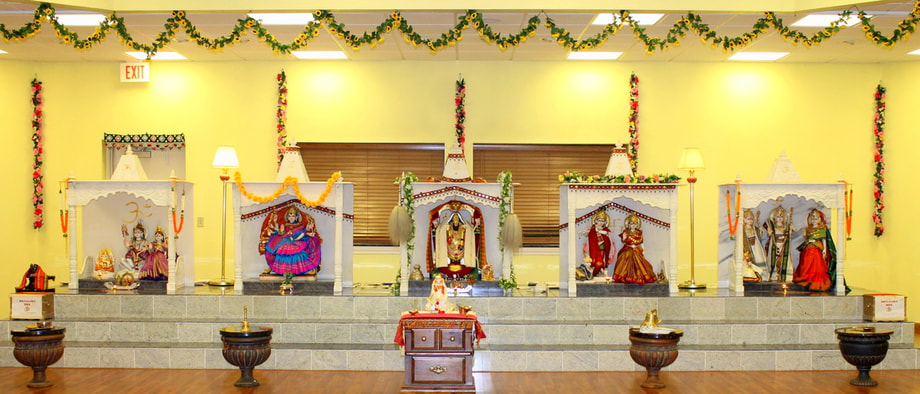 ---
---
The Hindu Temple of Amarillo is a non-profit religious organization in Amarillo, Texas. We are truly thankful for the strong community support that we have received. We would not be where we are today, without the support of the Indian Community in Amarillo. There are still a lot of things that need to be accomplished before the Temple can function as a self-sufficient entity and be everything that it needs to be for the community members.

---
Thank you for visiting the Temple website We encourage all visitors to participate in the Pujas and other activities at our Temple. To help us, Please use the contact form on this website and update your E mail and Address so that you continue to receive E mails on all events.
Contact Mr Bhattar (Priest) for any questions at 210-723-0756


​
June 2019 Events

Saturday 8th
6:30 PM - Shasti Subramanya Abhisekham and Aarthi.

Tuesday 18th
5:30 PM - Monthly Satyanarayana Puja

Thursday 20th
6:30 PM - Sankasta Chathurthi Ganesh Abhisekham and Aarthi

Saturday 29th
6:30 PM - Pradosham, Rudra Abisekham and Aarthi


Please note: Aradhana, Archana and Aarthi will be done everyday evening after the Abhishekam


TEMPLE TIMINGS

Monday
9:00 AM to 12:00 PM & 5:00 PM to 8:00 PM
Tuesday
9:00 AM to 12:00 PM & 5:00 PM to 8:00 PM
Wednesday
CLOSED
Thursday
9:00 AM to 12:00 PM & 5:00 PM to 8:00 PM
Friday
9:00 AM to 12:00 PM & 5:00 PM to 8:00 PM
Saturday
9:00 AM to 1:00 PM & 5:00 PM to 8:00 PM
Sunday
9:00 AM to 12:00 PM & 5:00 PM to 8:00 PM

---
---
---
---
---
---
---
---
---
---
---
---
---
Priest
Mr. Murali Mohan Devaraya Durga Venu Gopal Bhattar.
Dress Code
Indian attire is highly recommended for ALL.
As a mark of reverence, devotees and guests should dress appropriately and MODESTLY when visiting the temple.
Shorts are not acceptable except for children up to grade 5.
Future Projects
Temple still needs financial support to accomplish its mission. You can support us by becoming a member and/or donating money (lump sum or every month). We also have the ability to accept stocks as donations. Please contact any one of the office bearers for more information on the procedure involved to take advantage of this tax benefit. Please contact one of the board members to pick a choice that is suitable for you.
We are seeking volunteers to do various activities at the temple. Please contact us for more information.
Library set up.
Temple expansion.
We are sending out email newsletters periodically, to keep you posted on upcoming events and activities. Please send an email to
amarillomandir@gmail.com
with TEMPLE NEWSLETTER in the subject line if you wish to receive this newsletter.
501c3 status
The Internal Revenue Service has completed its review of the Temple's application for 501(c)(3) status as a public charity. The IRS has granted us exempt status with an effective date of November 11, 2002. This means that the Temple is exempt from Federal Income Tax and that all your contributions made to the Temple are also tax deductible. Additionally, the Temple is qualified to receive tax deductible bequests, devises, transfers and gifts.
You can make your donations by cash, check or direct deposit and choose any schedule you'd like, i.e. contribute weekly, monthly, yearly or in any way you please. For added convenience, the Temple also has a Brokerage Account which allows us to accept stocks and securities. If you have any questions regarding the Temple's status or wish to make a contribution via stocks/securities, you may contact any of the Board Members.
Please contact us via email at
amarillomandir@gmail.com
for more information, newsletters, suggestions, and comments about this website.
Note to devotees
Please help preserve the sanctity of the temple.